Happy Year of the Rabbit! 祝您兔年愉快!
Wherever you may be, we wish you and those close to you the very best Year of the Rabbit. Please accept our annual gift of lunar new year stamps from around the world. We hope you'll take a moment to tell us via email, Facebook or Instagram which of these stamps is your favorite.
China | Hong Kong | Macau | Taiwan | United States | Aland | Armenia | Australia | Belarus | Cambodia | Canada | Cuba | Estonia | France | French Polynesia | Grenada | Guernsey | Guinea-Bissau | Guyana | Hungary | Isle of Man | Jersey | Liechtenstein | New Zealand | Philippines | South Korea | Thailand | Ukraine | United Nations | Vietnam
China's 2023 rabbit year stamps were created by 99-year-old Huáng Yǒngyù 黃永玉, who also created the People's Republic's first such stamp, for the year of the monkey (1980). Already well-known in the 1960s, Huang suffered during the Cultural Revolution. He was targeted for both his writing and his art. He later wrote, "We have to admit that the Cultural Revolution was a very interesting drama. Unfortunately, the price of the ticket was too expensive. So much time, so many lives, blood, and tears" (translation by David Cheng Chang, 2012). Huang has remained a prolific writer and artist. In 2022, his illustrations and poetry were celebrated in a Beijing exhibition. Chinese state television broadcast a couple of stories about him, including him reading one of his poems and being interviewed (1 | 2).
China
Artist: Huáng Yǒngyù 黃永玉

2011

1999

1987

2011

1999
1987
1975

2011

1987

2011

1999

1987
1975
United States
Artist: Camille Chew; Art director: Antonio Alcalá

2011
Artists: Kam Mak, Clarence Lee (paper cut), Lau Bun (calligraphy), Art director: Ethel Kessler

1999

Australia
Designed by Chrissy Lau

2011

1999

1999

Canada
2011
Artist: Tracy Walker, Design: HM&E

1999
Artist: Ken Koo, Design: Ken Fung

1999

France
Artist: Chén Jiānghóng 陈江洪
Born in Tianjin, Chen has lived in France since 1988 and is well-known for his children's books and abstract paintings.
2011
Artist: Li Zhongyao

Guinea-Bissau
2011

Isle of Man
Artist: Stanley Chow

2011

1999

1987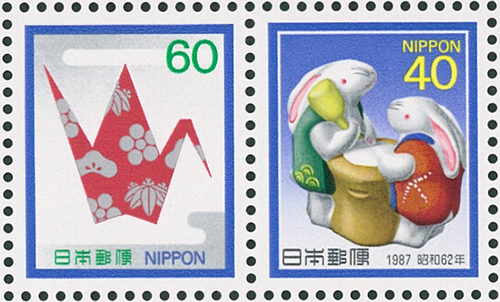 1963

1951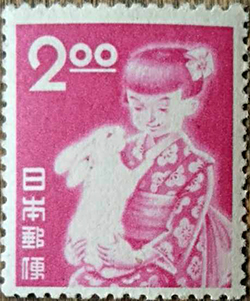 1999

Laos
1975

2011
1999
2011

South Korea (Republic of Korea)

2011

1975

2011

1999

Vietnam
Vietnam's twelve animal cycle varies slightly from that found elsewhere in East and Southeast Asia. In Vietnam, this is the year of the cat, rather than the year of the rabbit. In Australia, some communities have incorporated cats (e.g., giant inflatables, Hello Kitty and more) into this year's celebration.
2011

1999
Want more lunar new year stamps?
2022: Year of the Tiger
2021: Year of the Ox
2020: Year of the Rat
2019: Year of the Pig
2018: Year of the Dog
2017: Year of the Rooster
2016: Year of the Monkey
2015: Year of the Ram/Goat/Sheep
2014: Year of the Horse
2013: Year of the Snake
2012: Year of the Dragon
2011: Year of the Rabbit
2010: Year of the Tiger
2009: Year of the Ox
Featured Articles
A number of states have enacted laws prohibiting Chinese and others from "countries of concern" from purchasing homes or land.
Genshin Impact: Charting a Global Gaming Phenomenon and Chinese Dominance
Events
Tuesday, October 3, 2023 - 4:00pm
PT
Chinese companies are among the world's largest video game firms. They are on the move in some of the fastest growing markets.
Wednesday, October 18, 2023 - 4:00pm
PT
Throughout its history, the Chinese Communist Party has sought to dictate what is written and taught about its past. And some have always found ways to offer a fuller picture of what they and others have experienced.