Happy Year of the Ox! 祝您牛年快乐!
It's Lunar New Year Eve, a time to get together with family and call on friends and neighbors. U.S. President Joe Biden spoke with President Xi Jinping. Accounts of the conversation differ. The White House reports that Biden wished Xi and the Chinese people well, but also raised concerns over unfair economic practices, repression in Hong Kong, Xinjiang and elsewhere in China and actions towards Taiwan and others. China's foreign ministry reports that Xi told Biden that China expects the U.S. to stay out of its internal affairs. Xi wants to restore the various government to government dialogues that were set aside during the Trump administration. Both leaders called for better communication on key issues and held out hope for cooperation in critical areas such as combatting climate change. This call followed a similarly blunt exchange between U.S. Secretary of State Antony Blinken and Central Foreign Affairs Commission Director Yang Jiechi last Friday. Biden and Xi have had more contact than most leaders. In 2012 and 2013, they hosted each other's visits, including a stop at the International Studies Learning Center, a public secondary school here in Los Angeles.
*****
In 2015, the FBI arrested the chair of the Temple University Physics Department. Prof. Xiaoxing Xi 郗小星 was charged with wire fraud. The FBI said he was seeking to help China become a leader in superconductivity technology. The Department of Justice press release noted Xi could be sent to jail for 80 years and fined US$1 million. Within a few months, the government dropped all charges and Xi returned to his research and teaching. Because of his experience he has devoted considerable time to studying issues associated with ensuring transparency and accountability in research while encouraging cross-border cooperation. Later today, Prof. Xi will examine "Scientific espionage, open exchange, and American competitiveness." We hope you'll join the discussion.
As it happens, today is the International Day of Women and Girls in Science. To mark the occasion the U.S. Postal Service is issuing a stamp to honor a China-born physicist. Chien-shiung Wu 吳健雄 was born in Jiangsu province and graduated from National Central University and carried out research at Academica Sinica in Nanjing. She studied at the University of California, Berkeley and earned her doctorate at CalTech in Pasadena in 1940. She eventually joined the effort to develop the atomic bomb, working at a Manhattan Project materials lab at Columbia University. She would remain at Columbia until her retirement in 1981, becoming the first woman in the physics department to earn tenure and a full professorship. Some argue that she was worthy of the Nobel Prize who consulted with her on it received the prize in 1957. She received numerous awards, including the National Medal of Science in 1975. She died in 1997. Her ashes were buried at the school her father founded in Liuhe, her hometown. Wu began her education there.
| | |
| --- | --- |
| | |
This should be an especially festive time in China. Covid-19 fears remain high, however, despite the relatively few cases in the country and the recent approval of two China-developed vaccines. In the past couple of months areas with small outbreaks have been locked down. Many cities are discouraging new year travel and some employers are increasing pay and other enticements to keep workers on the job. In the U.S., of course, the case rate and number of deaths are dropping and millions have been vaccinated. But the disease is still prevalent and we mourn the loss of more than 470,000 family members, friends and neighbors. We wish we could drop by to visit you, but hope that you will accept and share our annual collection of lunar new year stamps from around the world. The China and U.S. designs were by Yao Zhonghua 姚钟华 and Camille Chew. Yao also created China's 1985 Year of the Ox stamp. Since 2016, one of China's new year stamps has emphasized parenting. The number of births, however, has declined each year since 2016.
| | |
| --- | --- |
| | |
US, East Asia
China, Yao Zhonghua  姚钟华 paintings

2009

1997

1985, Yao Zhonghua painting

United States, Camille Chew artist

2009, Kam Mak artist

1997

Hong Kong

2009

1997

1973
Macau

2009
1985

Taiwan, Republic of China

2009
1997

1985

1973
Japan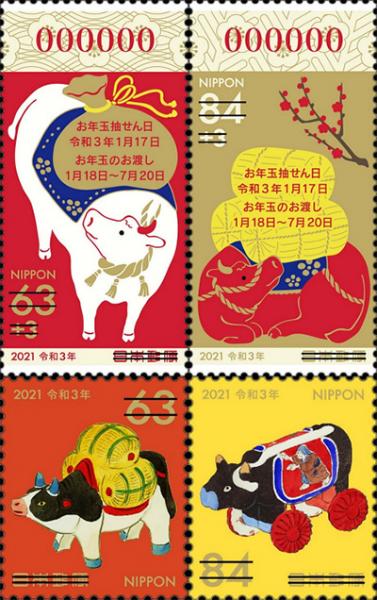 2009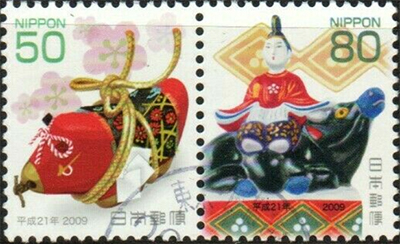 South Korea

Rest of the World
Armenia

Australia
2009

1997

Brazil
2009

Canada
2009, Ivan Novotny design
1997

France
2009

Gambia
2009

Ireland
2009

Kyrgyzstan

Liechtenstein

Mali
1997
Marshall Islands
1997

Nevis
1997, Han Huang, Tang dynasty, artist

New Zealand

2009

1997

Niger
1997

Palau

Philippines

2009
Thailand

2009

Vietnam

2009

1997

Previous USCI lunar new year stamp collections
2020: Year of the Rat
2019: Year of the Pig
2018: Year of the Dog
2017: Year of the Rooster
2016: Year of the Monkey
2015: Year of the Ram/Goat/Sheep
2014: Year of the Horse
2013: Year of the Snake
2012: Year of the Dragon
2011: Year of the Rabbit
2010: Year of the Tiger
2009: Year of the Ox
Featured Articles
Will Hong Kong continue to be a vital global business hub?
Mahtani and McLaughlin were on the ground in Hong Kong and provide this history of the Hong Kong pro-democracy movement centered around a cast of core activists, culminating in the 2019 mass protests and Beijing's crackdown.
Events
Monday, December 4, 2023 - 4:00pm
IOKIBE Kaoru (University of Tokyo) will focus on U.S.-Japan relations in historical and contemporary contexts.
Thursday, November 16, 2023 - 4:00pm
PT
Mahtani and McLaughlin were on the ground in Hong Kong and provide this history of the Hong Kong pro-democracy movement centered around a cast of core activists, culminating in the 2019 mass protests and Beijing's crackdown.