Talking Points, February 10 - 24, 2010
This week, we offer a special lunar new year edition of the USC US-China Institute newsletter. As always, the newsletter includes information about China-centered events across North America.
Talking Points
February 10 - 24, 2010
The Year of the Tiger is upon us. Across China and elsewhere families are gathering to celebrate the lunar new year. To help carry our best possible holiday wishes to you, we've gathered together new year's stamps from all over the world. We hope you enjoy them.
Gongxi facai! 恭喜发财!
China

1998

United States

Hong Kong


Macau

Taiwan

Japan

South Korea

Vietnam


Thailand

Singapore

Philippines

New Zealand

Australia

Canada

France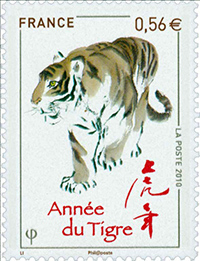 Already missing the year of the ox? Click here to see our collection of ox stamps.
Want more lunar new year stamps?
2021: Year of the Ox
2020: Year of the Rat
2019: Year of the Pig
2018: Year of the Dog
2017: Year of the Rooster
2016: Year of the Monkey
2015: Year of the Ram/Goat/Sheep
2014: Year of the Horse
2013: Year of the Snake
2012: Year of the Dragon
2011: Year of the Rabbit
2010: Year of the Tiger
2009: Year of the Ox
*******
Differences between the US and China have been in the headlines much more than collaboration on the pressing issues of the day. Below are three examples of recent editorials on the sources of the antagonism.
"President Obama is right to press Beijing to behave more responsibly — toward its own people and internationally. China is certainly pushing its sense of grievance too far and underestimating the fear and resentment its growing power is provoking in Asia and the West."
          New York Times, Feb. 10, 2010

"Making room for a new superpower should not be confused with giving way to it….

"Some see confrontation as inevitable when a rising power elbows its way to the top table. But America and China are not just rivals for global influence, they are also mutually dependent economies with everything to gain from co-operation."
          The Economist, Feb. 4, 2010

"Recently, the Sino-U.S. relationship was severely strained by the U.S. government's insistence on carrying out the previous administration's wrong decision to sell arms to Taiwan and stirring up the "Google Incident"…. Compared with 2009, the way the U.S. handled the China-American relationship was perplexing. Experience from the past and current reality reveals that there is a stubborn mindset rooted in U.S. diplomatic strategies. …

"Americans have a special sense of destiny and mission, which ultimately arises from the unshakable concept of "American Exceptionalism." Admittedly, the "China Threat Theory" lingering in American people's minds comes partly from lack of understanding about Chinese institutions and policies. The fundamental reason, however, is the deeply-rooted hostility against and fear of the existence of communism."
          People's Daily, Feb. 3, 2010
On Thursday, Feb. 18, Bates Gill, a leading China analyst and director of the Stockholm International Peace Research Institute, will visit USC to discuss what he calls the "backlash" against China and the challenges Chinese leaders face in responding to it. We hope you will join us.
Happy New Year!
Best wishes,
The USC US-China Institute
china.usc.edu
Subscribe to Talking Points at china.usc.edu/subscribe.aspx
Support the USC US-China Institute with your tax deductible gift at giveto.usc.edu/
Events
USC 
02/11/2010: Local Environmental Politics in China: Explaining Policies Implementation Gap and assessing its implications
University Club, Pub Room, Los Angeles, CA 90089
Cost: Free
Time: 4:00PM - 6:00PM
USCI`s postdoctoral fellow, Ran Ran, will examine China`s environmental policies.
02/18/2010: Backlash for Beijing: A Bumpy Road Ahead for China`s Relations with the West
University of Southern California
Address: Davidson Conference Center, Los Angeles, CA 90089
Cost: Free
Time: 3:00PM - 5:00PM
The U.S.-China Institute presents a talk by Dr. Bates Gill on China`s future relations with the West. 

02/24/2010: Lecture: Kwei-Bo Huang
USC Davidson Conference Center, Club Room
Los Angeles, CA 90089
Cost: Free
Time: 4:00PM - 5:30PM
Dr. Huang will examine Taiwan`s Mainland China policy and U.S- China relations. 
California
02/11/2010: Progress in Making Peace Across the Taiwan Strait: An American Perspective
Pomona College Rose Hills Theatre
333 North College Way , Claremont , CA 91711
Cost: Free
Time: 8:00PM
The Pacific Basin Institute presents a talk by Raymond Burghardt on prospects for overcoming political and security issues that China and the U.S. still have not tackled. 
02/12/2010: Beijing Dance Academy Resident Dance Company`s Butterfly Lovers
Ahmanson Theatre
135 North Grand Avenue at Temple Street, Los Angeles, CA 90012
The Beijing Dance Academy Resident Dance Company presents a collection of classical Chinese dances at the Ahmanson Theatre. 

02/12/2010: Gender and Historical Memory in Early Qing Yangzhou
UC Berkeley
IEAS Conference Room, 2223 Fulton Street, 6th Floor
Cost: Free
Time: 4:00PM - 6:00PM
UC Berkeley`s Center for Chinese Studies presents a talk by Waiyee Li on the praise and blame of Yangzhou women during the Ming-Qing transition.

02/14/2010: Authors on Asia
Pacific Asia Museum
46 North Los Robles Avenue, Pasadena, CA 91101
Cost: Free for members, included with museum admission for non-members
Phone: (626) 449-2742 ext. 20
Time: 2:00PM
The Pacific Asia Museum presents Canyon Sam, author of Sky Train: Tibetan Women on the Edge of History. 

02/16/2010: Factory Town: Life in a Chinese Development Zone
Pomona College
Hahn 101 , Claremont , CA 91711
Cost: Free
Time: 4:15PM
The Pacific Basin Institute presents a talk by Peter Hessler on his research in Lishui, a factory town in southern Zhejiang province. 

02/18/2010: The Post-Crisis Challenge for the US-China Relationship
Harry Kellogg Auditorium, Silicon Valley Bank
3005 Tasman Drive, Santa Clara, California
Cost: Students $50; Asia Society/Co-sponsor Members $75; non-members $100
Time: 8:30AM - 11:30AM
Asia Society hosts a panel discussion on economic conditions in the US and China. 

02/18/2010: Cold War Borders in a Post-Socialist World: Hong Kong / China
UCLA
Hacienda Room UCLA Faculty Center
Cost: Free
Time: 4:00PM - 5:30PM
The UCLA Center for Chinese Studies presents a lecture by James Watson on the fate of international borders that were transformed by the collapse of cold-war socialism and the triumph of global capitalism.

02/18/2010: Elizabeth Economy: The River Runs Black
Fromm Hall, USF Main Campus
Enter off Parker between Golden Gate and Fulton , San Francisco, California
Cost: Free
Time: 5:45PM - 7:30PM
Asia Society presents a talk by Elizabeth Economy on China's growing environmental crisis and its implications for the country's future development. 

02/19/2010: Culture of China, Festival of Spring
Pasadena Civic Auditorium
300 East Green Street, Pasadena, CA 91101
Cost: $20.00 - $168.00
Phone: (626) 449-7360
The Chinese Culture Development Center of the China Press will host a Chinese Spring Festival performance by the world renown performance group, the Central Policy & Dance Ensemble of People`s Liberation Army of P.R. China. 

02/20/2010: Chinese Kun Opera: The Peony Pavilion
Winifred Smith Hall
University of California, Irvine, Irvine, CA
Cost: $35 & $25 for general public, $15 for UCI students, VIP: donations of $100 or more will enjoy premiere seating and invitations to our post-performance party
University of California at Irvine presents a Chinese Kun opera, The Peony Pavilion. 
North America
02/16/2010: Guilty of Indigence: The Urban Poor in China
Princeton University
211 Dickinson Hall
Cost: Free
Time: 4:30PM - 6:00PM
Princeton University`s Davis Center for Historical Studies presents a talk by Janet Chen.
02/18/2010: Strait Talk: US-Taiwan Relations and the Crisis with China
Location: TBA
Time: 4:30PM
University of Pennsylvania`s Center for East Asian Studies presents a talk by Nancy Tucker on the nature of US commitments to Taiwan, the intentions of critical actors, the impact of democracy, the role of lobbying, and the accelerating difficulty of balancing Taiwan against China. 
02/18/2010: The Buddhist Wheel of Rebirth in China and Elsewhere
Staff Dining Room, Brower Commons
Rutgers University 145 College Avenue, New Brunswick, New Jersey 08901
Time: 4:30PM
As part of the Distinguished Lecture Series in Chinese Culture, the Confucius Institute of Rutgers University features a talk by Dr. Stephen F. Teiser. 
02/19/2010: Christian Chroniclers of Chinese Cruelty: Western Misperceptions of Chinese Criminal Justice
School of Social Work Building, Room 1636
Address: 1080 South University , Ann Arbor, MI 48109-1106
Phone:
734.764.6308

Time: 12:00pm - 1:00pm
University of Michigan`s Center for Chinese Studies presents a talk by Professor Thomas Buoye on Christian missionaries` depictions of Chinese criminal justice .
Exhibitions  
01/06/2010 - 02/17/2010: Sketches of China: Works on Paper by Hyunsook Cho
Pacific Asia Museum, Gallery of Contemporary Art
46 North Los Robles Avenue, Pasadena, CA 91101
Phone:
(626) 449-2742

Sketches of China presents the artist`s re-interpretation of traditional Chinese ink painting in different media
 09/22/2009 - 06/30/2010: China`s Great Wall: The Forgotten Story
NYC offices of the Rockefeller Brothers Fund, New York, NY
The Forgotten Story is a series of historically-based photographs of the Great Wall of China. It is a collaboration between Jonathan Ball, a California based photographer, and David Spindler, one of the world`s foremost experts on Great Wall history.

11/03/2008 - 11/03/2009: Ancient Arts of China: A 5000 Year Legacy
Bowers Museum
2002 North Main Street, Santa Ana, California 92706
Bowers Museum presents a collection that portrays the evolution of Chinese technology, art and culture. 

11/15/2008 - 11/15/2009: Masters of Adornment: The Miao People of China
Bowers Museum
2002 North Main Street, Santa Ana, California 92706
The Bowers Museum presents a collection of exquisite textiles and silver jewelry that highlights the beauty and wealth of the Miao peoples of southwest China. 

02/12/2009 - 02/12/2010: Art of Adornment: Tribal Beauty
Bowers Museum
2002 N. Main, Santa Ana, CA
Cost: $5
An exhibit featuring body adornments from indigenous peoples around the world.
____________________________________________________________________
Please invite others to subscribe to USCI's free email newsletter for regular updates on events and programs. We will not share names or email addresses with any other entity. Sign Up.
We provide information about China-related events as a community service. If you would like your event considered for inclusion in the USCI calendar, please click here to submit event details.
If you would like to support USCI by making a donation please visit http://www.usc.edu/giving/.
USC U.S. – China Institute
3535 S. Figueroa St.
FIG 202
Los Angeles, CA 90089-1262
Tel:
213-821-4382

Fax: 213-821-2382
Email: uschina@usc.edu
Website: http://china.usc.edu 
You have received this e-mail because you have subscribed to receive updates from USCI. If you feel this message has reached you in error or you no longer wish to receive our updates, please click, unsubscribe, and enter "Remove" in the subject line.
Featured Articles
Zhao offers a quick history of China's foreign policy since 1949 and then offers a provocative assessment of it today.
Resilience, inclusion and communication central in her remarks
Events
Thursday, May 4, 2023 - 4:00pm
Join us for a book talk with Suisheng Zhao on how Mao Zedong, Deng Xiaoping, and Xi Jinping each conceived and executed radically different approaches to China's relations with others.