Investing in Latin America
Since then Chinese President Jiang Zemin visited Latin America in 2001, China has become more engaged in the region. Chinese investment and loans to Latin America have declined in the last few years, but the region remains important to China as a market for goods and a source of essential energy and products.
Subscribe to our weekly newsletter to get them delivered straight to your inbox!
---
The U.S. vastly outspends China in Latin America. China's investments peaked in 2016 at US$16 billion but has declined for three consecutive years.
The U.S. has invested heavily in manufacturing, especially to the transportation and chemical processing industries. While most of China's investment in the region has gone into raw materials, FDI is flowing into the manufacturing and service sectors.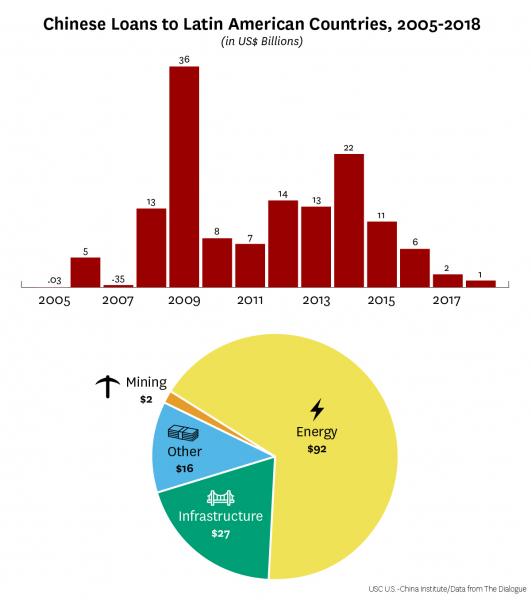 Since 2005, the China Development Bank and China Export-Import Bank have loaned more than US$137 billion to Latin American and Caribbean countries and state-owned firms. Venezuela has received the most, with 17 loans totaling $US62 billion (US$55 billion going towards energy projects). Brazil is the second largest recipient with US$29 billion in loans (US$26 billion into energy).
In 2019, Mexico jumped past China and Canada to become America's top trading partner, which accounted for US$577 billion of total trade in 2018. China exports much more to Mexico than it imports, including manufacturing parts that end up in the U.S. While Chinese trade with South America remained sparse through the PRC's first fifty years, by 2010 it had surpassed the U.S. in total trade.
Featured Articles
A number of states have enacted laws prohibiting Chinese and others from "countries of concern" from purchasing homes or land.
Genshin Impact: Charting a Global Gaming Phenomenon and Chinese Dominance
Events
Tuesday, October 3, 2023 - 4:00pm
PT
Chinese companies are among the world's largest video game firms. They are on the move in some of the fastest growing markets.
Wednesday, October 18, 2023 - 4:00pm
PT
Throughout its history, the Chinese Communist Party has sought to dictate what is written and taught about its past. And some have always found ways to offer a fuller picture of what they and others have experienced.