Talking Points, January 6-20, 2020
We look back at some of the noteworthy individuals who passed away in 2019.
Happy New Year!
祝您新年快乐!
 
We wish you the best possible 2020.
The USC U.S.-China Institute has launched a podcast, China Life, and we invite you to give it a listen. In China Life, we hear from a variety of people about their experiences living and working in the People's Republic. The first two episodes feature one of the imagineers behind Shanghai Disneyland and a consultant who has helped foreign automakers find their way in what is now the world's largest auto market. Please let us know what you think of China Life.
We want to alert you to three of our upcoming events. The first, on January 15 (5 pm PST) is a roundtable discussion on Taiwan's Jan. 11 presidential and legislative election. It will be a webcast, so you can watch it live. The second, is a screening of the new documentary Americaville on January 17 (6 pm). Americaville follows Annie Liu as she moves from Beijing to a town inspired by the American West. Our third public event of January will be a presentation by Jeff Wasserstrom based on his new book Vigil: Hong Kong on the Brink. Join us for that on January 23 (4 pm).
Before we plunge too much further into 2020, let's take a moment to look back at some of those notable figures in China, Taiwan and U.S.-China affairs who passed away in 2019. It's quite a varied list, including a couple famous figures from the Cultural Revolution, political leaders, scientists (one of whom became a whistleblower), an architect, several scholars, writers, a photographer, a business leader, actors, and a woman who risked her life to have a child, triggering a public debate. You can use the links below to skip to a name you recognize or you can just scroll down for our capsule obituaries.
Da Chen 陈达 | Charlie Cole | Yuan-Cheng "Bert" Fung 馮元楨 |
K'o Ch'ing-ming 柯慶明 | Michael Lai 黎小田 | C.Y. Lee 黎錦揚 |
Li Peng 李鹏 | Li Rui 李锐 | Li Xueqin 李学勤 |
Richard Lugar | Ma Xuezheng ("Mary") 马雪征 | Roderick MacFarquhar 马若德 |
Nie Yuanzi 聂元梓 | Ng Cho-nam 吳祖南 | I.M. (Ieoh Ming) Pei 貝聿銘 |
Peng Xiaolian 彭小莲 | Dan Pinck | Sidney Rittenberg 李敦白 |
Su Beng 史明 | Wang Fengchao 王凤超 | Wang Jun 王军 |
Wang Shuping 王淑平 | Wu Meng 吳梦 | Ye Xuanping 叶选平 |
---
Da Chen 陈达 (b. 1962) was born into a family that had known wealth and power prior to the establishment of the People's Republic. The family was targeted inthe campaigns of the 1950s and 1960s. In the reform-era, Chen made it to university in Beijing and eventually got to the U.S., starting out in Nebraska before earning a law degree at Columbia. He wanted to write and in 1999, Chen produced his best-selling memoir Colors of the Mountain. He produced several other books, most recently Girl Under a Red Moon, about his elder sister's experiences during the Cultural Revolution. Several of his books were intended for young adults.
(Cole's iconic "tank man" photo published by Newsweek and others.)
Charlie Cole (b. 1944) was one of the photographers whose "tank man" photo in Beijing in 1989 was widely circulated. His film of the event was nearly discovered by security personnel. His photo was published by Newsweek and earned him the 1990 World Press Photo of the Year award. He worked in Asia from 1980 on, covering not only the Beijing demonstrations, but also earlier "people's power" demonstrations in the Philippines and South Korea.

(UCSD)
Yuan-Cheng "Bert" Fung 馮元楨 (b. 1919) was joined by scholars from across the world at his 100th birthday celebration at the University of California, San Diego in September. Fung is known as "the father of biomechanics." Born in Jiangsu Province, Fung earned bachelor's and master's degrees at National Central University (which became Nanjing University) before coming to the California Institute of Technology in Pasadena, California in 1946 where he earned a doctorate and became a professor of aeronautics. He was an established leader in his field, but his mother's acute glaucoma caused him in 1958 to focus on that disease and the mechanics of the body. Trying to help his mother, he translated many articles on glaucoma and sent them to her doctors in China. When UCSD and its medical school were established in 1966, he moved there and over the decades had immense influence in the field. He received numerous awards, including the National Medal of Science in 2000. The Chinese Academy of Science made him a foreign member in 1994.
K'o Ch'ing-ming 柯慶明 (b. 1946) was a longtime literature professor at National Taiwan University. He specialized in poetry and aesthetics and for a time headed the Graduate Institute of Taiwan Literature.
Michael Lai 黎小田 (b. 1946) got an early start in Hong Kong films, appearing in his first when he was seven and, by the time he was eighteen, he'd been in thirty-six films. His farther was a music director for films and his mother was a critic. He loved music, joined a band and began writing music. His "Ask Me" was a hit in a 1976 film and he continued producing songs for films and television. He wrote more than 700 songs.
C.Y. Lee 黎錦揚 (b. 1915) grew up in China and came to the U.S. in 1943 as a graduate student. He was a prolific writer. He was best known, however, for his firstnovel, The Flower Drum Song (1957), which became a popular Broadway production, twice! The novel had been passed over by many publishers. At the time, Lee paid his bills working as a journalist for San Francisco Chinese-language newspapers. Richard Rodgers and Oscar Hammerstein II turned Flower Drum into a musical directed by Gene Kelly. The film version of the book appeared in 1961 was nominated for five Oscars. Lee was sensitive to criticism that he furthered stereotypes of Chinese and Chinese Americans. One fan, award-winning playwright David Henry Hwang, spent several years reworking the musical which opened in Lee's Los Angeles in 2001. Flower Drum is about Asian American life, but Lee also produced historical fiction. Two of his last books are The Second Son of Heaven (1990) about the Taiping Rebellion and Gate of Rage (1991), a novel about the Tiananmen Square protests and crushing of the demonstrations.

(Kyodo, 1989)
Li Peng 李鹏 (b. 1928) rose to become China's premier and, because of his role in declaring martial law and violently suppressing pro-democracy demonstrations in 1989, Li was condemned by Chinese dissidents and their supporters as "the Butcher of Beijing." In a May meeting with student leaders, Li told students they were seen as patriotic and the government wanted to address many of the issues they raised. But then he said, "There is complete chaos in Beijing. Moreover, chaos has spread throughout the country…. I can state that during the past few days, Beijing has been in a state of anarchy." Ending disorder (luan 乱) became the party's justification for sending in the troops. According to The Tiananmen Papers, Li argued that reactionaries from inside and outside China had pushed the turmoil and "their goals are to overthrow the Communist Party and to subvert the socialist system."
Li was born in Sichuan and, after his father was executed by Nationalist authorities in 1930, he was taken in by Deng Yingchao, Zhou Enlai's wife. He went with Deng to Yan'an, the Communist base, in 1941. He studied engineering in Moscow 1948-1955 and subsequently worked in the energy and water resources bureaucracies. He became a politburo standing committee member in 1987 and was named premier when Zhao Ziyang was elevated to general secretary of China's Communist Party. He served as premier until 1998, when he became chair of the National People's Congress. He stepped down as a politburo standing committee member in 2002.
Li's children are influential. His son Li Xiaopeng became Minister of Transportation in 2018. Daughter Li Xiaolin headed China Power International Development and is now vice-president of China Datang, a state-owned power company. In its obituary, the Chinese state news agency credited Li with following Deng Xiaoping in suppressing "the counter-revolutionary riot." It further celebrated Li's work establishing "honest and clean government."

(AFP, 2006)
Li Rui 李锐 (b. 1917) served as Mao Zedong's personal secretary in the 1950s. Because of his criticism of the Great Leap Forward and Peng Dehua, Li was labelled anti-party and spent two decades in prison. He was rehabilitated after Mao's death and served as a Communist Party leader. He eventually became an advocate for constitutionalism as a way of avoiding tragedies such as those of the Mao era. This led the Communist Party to prohibit any outlet from publishing his writing. Li still managed to be a thorn in the side of the Party-State. He spoke to The Guardian in 2005 and said that China had to confront Mao's disastrous choices. He said, "[Mao] put no value on human life. The deaths of others meant nothing to him." In 2010 he authored an open letter calling for an end to censorship.
Li Xueqin 李学勤 (b. 1933) was a leader of the Chinese Academy of Social Science's Institute of History for decades and worked there from 1954. He began his studies focused on the oracle bones of the Shang Dynasty (ca. 1500 bce), but during the anti-rightist movement Li denounced his mentor, Chen Mengjia. Four decades later, The New Yorker's Peter Hessler interviewed Li about his criticism. Li said that he avoided using politically-charged labels and limited his personal criticism to a single paragraph. He said, "I was very young [24] and I couldn't refuse." Hessler was moved by the deep regret Li seemed to have over the incident. Li's subsequent work explored early Chinese history and in 1995 he was appointed chair of a multi-million dollar State Council effort to prove the existence of Xia dynasty, to show that it functioned and was not simply a set of stories passed down over the centuries. In the end, however, the evidence for the Xia was inconclusive. A number of journalists and scholars who worked with Li over the decades described him as insightful, patient and generous with his time.
Liu Shahe 流沙河 (b. 1931) was the pen name of Yu Xuntan. His father was a Sichuan landowner who was executed in China's land reform. Liu became a poetwhose father had died during the land reform and helped create the poetry journal Stars in 1957. His poem "Grasses and Trees" was included in the first issue. Debate broke out about Liu's targets and the poem and poet ended up being denounced as counter-revolutionary. Liu was sent to a labor camp and only after the Cultural Revolution was he rehabilitated. He received the National Prize for Poetry in 1982. The Pacific War made a deep impression on him and in 2007 People's Daily published his essay, "America is China's Best Friend." In it, he began by noting that many brave Sichuan men volunteered and fought with the Nationalist Army against the Japanese and then he gave a number of reasons why he thought Americans were China's friends. That part included a story about American support for Chinese education and for China against Japan during the Pacific War.

(Politico)
Richard Lugar (b. 1932) served six terms as a Republican senator from Indiana (1977-2013). He had previously been the mayor of Indianapolis for eight years. He was best known for his work in foreign affairs and his work on China sometimes generated headlines. As chair of the Senate Foreign Relations Committee, Lugar sought to secure the release of Yi Xigong from jail in China. Yi was imprisoned and his American fiancé Lisa Wischser (from Indianapolis) was expelled from China in 1982. He was accused of providing her with secret documents on rural economic conditions. Lugar and his House counterpart Stephen Solarz pushed for his release in letters delivered during the 1984 visit by Pres. Ronald Reagan to China. When Yi's release was announced in 1985. Lugar wrote that it "would be looked upon by people throughout the world as a gesture of good will and an opportunity to strengthen Chinese-American relations."
In the aftermath of Tiananmen, Lugar supported Pres. George H.W. Bush's extension of most favored nation status to China. On CBS television in 1991, he argued that "if most-favored-nation is not extended, the Chinese will be isolated. The Chinese have been most dangerous, most repressive with regard to human rights--trade did not go well nor did nuclear proliferation when the Chinese were isolated. So we have to remain engaged." It was a theme he remained committed to, arguing, for example in 1995 (at the time of the arrest and eventual release of Harry Wu, an American activist and in advance of First Lady Hillary Clinton's participation in the UN Conference on Women in Beijing) that human rights in China had to be an American concern, but not the only one, that trade, geopolitics and security were also vital. On CNN he said, "I agree that the human rights situation is going to improve by leaps and bounds if American businesspeople, scholars and the rest keep going through China and if the contacts remain very large."  
By 2010, however, Lugar was worried that China was winning the public diplomacy battle with the United States. He challenged Hillary Clinton, then Secretary of State, to increase U.S. efforts in China. He noted that while China had (at that time) 60 Confucius Institutes in the U.S., that the U.S. had no such outposts in China. By 2011 there were five American culture centers, but Lugar felt this and Obama efforts to encourage Americans to study in China were only just first steps in combatting what he termed "America's public diplomacy deficit" with China. As the ranking minority member on the Senate Foreign Relations Committee, Lugar oversaw a report criticizing U.S. efforts to counter China's internet censorship and to promote American ideas through broadcasting and public diplomacy in China. The report argued, "it is clear to even the casual observer that when it comes to interacting directly with the other nation's public we are in another lop-sided contest. China has a vigorous public diplomacy program, based on a portrayal of an ancient, benign China that is, perhaps, out of touch with modern realities. Nonetheless, we are being overtaken in this area of foreign policy by China, which is able to take advantage of America's open system to spread its message in many different ways, while using its fundamentally closed system to stymie U.S. efforts." In the past few years, political pressure has led a number of universities in the U.S. and elsewhere to close their Confucius Institutes.
In 2012, Lugar was defeated in the Republican Senate primary by a Tea Party-supported candidate. Among his post-senate activities, Lugar founded The Lugar Center in Washington, D.C. to foster discussion of global issues.

(Joel Lam, 1997)
Ma Xuezheng ("Mary") 马雪征 (b. 1952) was a longtime executive at Legend/Lenovo, joining the company in 1989. She created the company's employee stock ownership program in 1997 and as chief financial officer managed its 2005 acquisition of IBM's personal computer business and its 2006 sponsorship of the Turin Winter Olympics, the first such effort by a Chinese company. After stepping away from her managerial role at Lenovo, she created the Boyu Capital firm, an investor in Alibaba, NetEase, LY.com and other firms. She was born in Tianjin and graduated from Beijing's Capital Normal University during the Cultural Revolution and studied and went to study English literature at King's College, London in 1981. She worked at the Chinese Academy of Sciences (where Legend was founded) for twelve years.

(Alan Macfarlane, 2017)
Roderick MacFarquhar 马若德 (b. 1930) wore many hats over a long career. He was a solider, journalist, a member of the British parliament, and a distinguished scholar. He was the founding editor of the most widely circulated English-language academic journal on China, The China Quarterly, while also writing for newspapers and the BBC. In the 1970s, he served as a moderate Labor member of Parliament before moving to academia first in Britain and then in the U.S., teaching at Harvard from 1985. His books on Maoist China (especially the 3-volume Origins of the Cultural Revolution and Mao's Last Revolution, co-authored with Michael Schoenhals) are mandatory reading for all interested in the era. He also wrote extensively on China's reform era.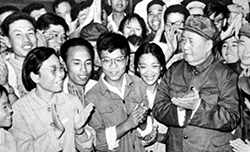 (Nie meets Mao, 1966)
Nie Yuanzi 聂元梓 (b. 1921) was an administrator at Beijing University. On May 25, 1966 she and others from the philosophy department put up the first big character poster. In it she attacked the university party secretary and other leaders arguing that they were bourgeoisie running the school. The real target, however, was Beijing Party Secretary Peng Zhen. Nie acted at the direction of Politburo member Kang Sheng. Chairman Mao had Nie's critique read over national radio and published in the People's Daily. Nie had not completed high school, but had joined the party in 1938 and was the philosophy department's party secretary. Nie spent the next two years in factional fighting for control of Beijing University, ultimately losing and being held for re-education. In 1969, she was sent to a labor camp. After the Cultural Revolution, she served five years of a seventeen year sentence for counterrevolutionary activities.
Ng Cho-nam 吳祖南 (b. 1960) was a University of Hong Kong geographer and an environmental activist. He played an important role in mobilizing opposition to a railway project in 1999 that would have damaged the Long Valley wetlands. Ng served as a government adviser for a number of years and received the Silver Bauhinia Star for his contributions to Hong Kong.

(artron.net)
I.M. (Ieoh Ming) Pei 貝聿銘 (b. 1917) was born in China and came to the U.S. for college. He became one of the world's best-known and most influential architects. His iconic structures include Dallas City Hall (1978), John F. Kennedy Library (1979), the East Building of the National Gallery of Art (1978), the Beijing Fragrant Hills Hotel (1982), New York's Javits Convention Center (1986), the glass pyramid of the Louvre in Paris (1989), Hong Kong Bank of China tower (1989), the Rock and Roll Hall of Fame in Cleveland (1995), the Suzhou Museum (2006) and the Museum of Islamic Art in Qatar (2008). He received all the major prizes in architecture, including the Pritzker Prize in 1983. Pei was celebrated in China, but in June 1989 he spoke out about the violent suppression of the student-initiated protests in China. In a New York Times op-ed, he wrote, "We were shocked beyond measure. The revulsion soon turned to anger, then sadness, for it was all so unnecessary…. [T]he aspirations for democracy and human rights were legitimate, as were the criticisms of corruption and privilege. There was no justification for the use of force; a continued dialogue could have produced a peaceful outcome." The essay noted that he had been happy that China's reforms allowed him to work there. He wondered if he and his sons would ever work again in China. They did, of course, and Chinese media celebrated his architectural contributions and ignored that 1989 condemnation at his passing.
Peng Xiaolian 彭小莲 (b. 1953) was a film director and writer. She graduated from the Beijing Film Academy in 1982, though her films were somewhat different from her "fifth generation" filmmaker classmates. She focused on Shanghai: Once Upon a Time in Shanghai (上海纪事, 1998), Shanghai Women (假装没感觉 , 2002), Shanghai Story (美丽上海, 2004), Shanghai Rumba (上海伦巴, 2006) and Shanghai Kids (我坚强的小船2008). Though her early films garnered awards, she had trouble getting funding. Her next feature film, Please Remember Me (请你记住我, 2018) was released ten years after Shanghai Kids. She never stopped working however, co-directing a documentary about Hu Feng and his associates. Hu was a writer who criticized overly political fiction writing and was subsequently sent to labor camps for more than twenty years. She also wrote a book about her parents and other non-fiction works, while continuing to write about film.
Dan Pinck (b. 1924) joined the U.S. Army not long after the 1941 attack on Pearl Harbor. He subsequently joined the Office of Strategic Services, which became the Central Intelligence Agency after the war. He underwent training in Xingning in Guangdong province and the OSS then sent him (with a Boy Scout Handbook and money to pay agents and for bribes) to Hetian in Fujian province. He was charged with monitoring Japanese movements. His supervisor was a former a sales agent for the British and American Tobacco Company in China. Pinck served in China for a year and a half. He occasionally wrote about U.S.-China relations for a variety of publications. Pinck wrote his memoir of his time in China in the 1950s. The Naval Institute Press published it, Journey to Peking, in 2003.

(USC Marshall)
Sidney Rittenberg 李敦白 (b. 1921) learned Chinese in the U.S. Army and was sent to China. Before his army service Rittenberg was already an activist who fought social and economic inequality in America. Released from the army, Rittenberg went to work in the United Nations relief effort. He met Mao and subsequently joined the Chinese Communist Party and went to work in the party-state's broadcasting efforts. He devotion to building a new China didn't protect him from political swings. On the advice of the Soviet Union, in 1949 China's leaders jailed him as an American spy. Rittenberg endured solitary confinement until his 1955 release. By then his wife had divorced him. Still a committed party member,  Rittenberg went back to work at Radio Beijing. A coworker, Wang Yulin, helped him adjust to life outside prison. They fell in love and married. Rittenberg's activism was undiminished and he became a leader in the struggles at the broadcast ministry at the outset of the Cultural Revolution. He was again jailed in 1968, again enduring solitary confinement, and Wang was sent to a May 7th Cadre School. Her refusal to denounce him meant that Wang and their four children suffered immensely during the Cultural Revolution. Rittenberg was released in 1977. In 1980, the family migrated to the U.S. After a difficult landing, Rittenberg and Wang began to consult with American firms seeking to work in China. They both wrote memoirs (The Man Who Stayed Behind and After the Bitter Comes the Sweet) and visited and spoke at USC many times (he was fixture at the Marshall School's Asia Pacific Business Outlook conference), including when we screened The Revolutionary, a documentary about Rittenberg's experiences. He and Yulin spoke in our program for secondary school educators and he spoke in undergraduate classrooms. One of those was Dan Lynch, who told us, "A 95year-old man held the 20-year-old kids spellbound. The best moment came when one of the students... asked how he yet remained so happy, and how he was able to live such a long and ultimately prosperous and rich, satisfying life. Without hesitating, Sidney gestured toward Yulin, sitting quietly in the back and said, "I would have been nothing without her.""

(Avanguard Publishing)
Su Beng 史明 (Lim Tiau-hui, b. 1918) argued that Taiwan's distinctive history had produced a unique culture and society. He devoted his life to fighting against external forces that ruled Taiwan. After college in Japan, he went to the mainland and supported the Chinese Communist Party against Japan and the Kuomintang. By 1949, however, he was disillusioned by the Communists and returned to Taiwan where he worked to overthrow the Kuomintang military government there. When one plot was uncovered, he fled to Japan and remained there for four decades, running a restaurant, training opposition fighters, and writing a massive three volume history of Taiwan. His history was first published in Japan. It was banned in Taiwan and was first published in Chinese in the United States. Su gradually moved away from seeking to use violence to end Kuomintang rule and began advocating for peaceful change. After the end of martial law and Taiwan's first democratic elections, Su returned to Taiwan. His influence was immense, though relatively few Taiwanese endorse formally declaring independence, since they know that is a red line for the Beijing government and Taiwanese already choose their own government, as they will do again on January 11.
Wang Fengchao 王凤超 (b. 1945) served as a key Beijing representative to Hong Kong from the late 1980s until his retirement in 2009. Beijing's chief office was the Xinhua News Agency branch until the 1997 handover when it became the liaison office. In 2000, a Hong Kong television station broadcast an interview with Taiwan's newly-elected vice president, Annette Lu, Wang told Hong Kong media that it needed to be careful in reporting about Taiwan. He said, 'Hong Kong's media has the responsibility to uphold the integrity and sovereignty of the country. This has nothing to do with press freedom.'' Acting Chief Executive Anson Chan noted that while the Hong Kong government supported the one China principle, Hong Kong's basic law provided for freedom of the press.
Wang Jun 王军 (b. 1941) was a "princeling," the son of Wang Zhen, one of the founders of the People's Republic. He was trained as an engineer and served in the military, but started to work at the newly established state-owned China International Trust and Investment Corporation (CITIC) in 1979. He became CITIC in 1993 and chairman in 1995, a position he held until 2006.  CITIC is now one of the largest conglomerates in the world and Wang Jun's state rank was equivalent to that of state minister. Wang also headed Poly Group, another state behemoth. He was married to the sister of another princeling on this list, Ye Xuanping. 

(University of Utah)
Wang Shuping 王淑平 (b. 1959) was a physician and researcher who exposed problems in China's blood transfusion operations. In 1992 she reported on the problem with hepatitis-tainted blood and in 1995 she reported on the HIV epidemic among blood plasma donors. She worked at a health station in Henan province, but was beaten and driven out when she went to Beijing to share her HIV findings. Zeng Yi, the head of the China Academy of Preventive Medicine, brought her to the academy after this. She migrated to the United States in 2001. She subsequently worked at the Medical College of Wisconsin and University of Utah's College of Health. Wang's story is partially told in The King of Hell's Palace, a play written by Frances Ya-chu Cowhig (the daughter of American diplomat David Cowhig who drew upon her work for his science and technology reports from China). The Guardian reported that Chinese security officials pressured Wang's family in China to block performances of the play.

(CCTV)
Wu Meng 吳梦 (b. 1976?) was a former journalist in Sichuan who suffered from pulmonary arterial hypertension and Eisenmenger's syndrome. She was divorced and had a seven-year-old son. She got pregnant at age 42 and decided to carry the child to term, even though doctors warned her against it. She went public with her situation, triggering a national debate over patient rights. She gave birth in June, but was soon hospitalized. She died in December.
Ye Xuanping 叶选平 (b. 1924) was the eldest son of Ye Jianying, one of China's "ten marshals" and later backed Deng Xiaoping in getting power after the death of Mao Zedong in 1976. Ye Xuanping spent his formative years in Yan'an, the Communist Party's wartime capital, studying engineering. As Deng and his father consolidated power, Ye Xuanping became a dominant political figure in Guangdong, the family's home province. He served as mayor of Guangzhou (1980-1985) and then as provincial governor (1985-1995). Ye's brother Ye Xuanning headed the People's Liberation Army's intelligence branch. His son Ye Xinfu is a business giant based in Hong Kong. Ye's grandson, Ye Zhonghao, is a district head in the city of Yunfu.
Zhang Jian 张健 (b. 1970) was born in Beijing and was an athlete at the Beijing Sports School. He was just 18 when students began demonstrations there. He quickly joined them and became one of the security officials for the protestors. When troops took Tiananmen Square the night of June 3, Zhang was among those wounded or killed on Chang'an Boulevard. After recovering from three bullet wounds, Zhang went underground, eventually escaping to France in 2001. He continued to oppose the Chinese government, working with others calling for peaceful change.
Thank you for reading this issue of Talking Points. We hope you'll encourage others to subscribe. Our comprehensive calendar of China-related events over the next week is below and is always available at our website.  
A final note for K-12 educators, we are part of the National Consortium for Teaching about Asia and are currently enrolling teachers in our spring courses on Contemporary China and East Asia since 1800. We have a Facebook group just for you. Click here to learn more about these opportunities.
Best wishes,
The USC U.S.-China Institute
Click here to get on our mailing list.
Follow us on YouTube, Twitter, and Facebook.
We need your support, please click here to donate.
Featured Articles
The Women's Tennis Association is at odds with China's government. How big is tennis in China?
Professor Maria Repnikova's new book explores China's complex and often contradictory soft power performance.