Cultural Preservation and Sustainability in China (Saturday, Oct. 1, 2022)
Climate change, development and commercialization pressures and overuse are among the threats to preserving cultural sites and practices. Drawing on the examples of Buddhist caves, traditional architecture, urban design and heritage sites, this online Saturday workshop for educators will explore a variety of preservation and sustainability concerns in today's China. Participants will receive background materials and recommendations on how these issues can be incorporated into their own courses. Sponsored by USC's U.S.-China Institute and East Asian Studies Center in partnership with the National Consortium for Teaching about Asia.
Overview:
9 am to 12:30 pm Pacific Time
Via Zoom
Space in this educators workshop is limited. Complete the form below to enroll. Participants will receive links to access readings and resource recommendations and for the workshop itself.
Speakers:
Buddhist Cave Temples as World Heritage Sites in China
Sonya Lee, University of Southern California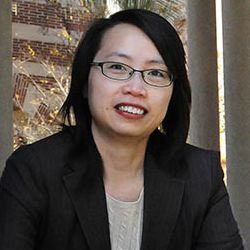 Sonya Lee is a professor of art history, East Asian languages and cultures and religion. She also heads the USC East Asian Studies Center. Prof. Lee published Temples in the Cliffside: Buddhist Art in Sichuan earlier this year. She's also the author of Surviving Nirvana: Death of the Buddha in Chinese Visual Culture (2010) and is editor-in-chief for the forthcoming Grove Encyclopedia of Asian Art, a multi-volume work. Prof. Lee's research has been supported by a number of grants, including ones from the National Gallery of Art and the American Council of Learned Societies.
Urban heritage and ritual space in Shenzhen
Timothy Oakes, University of Colorado
Tim Oakes teaches geography and directs the Henry Luce Foundation-funded China Made project examining Asian infrastructures and the China model of development. He headed CU's Center for Asian Studies for a decade.
This talk will explore the ways urban villages (or, 'villages-in-the-city' 城中村) have been manufacturing a heritage landscape in a context of precarious existence within the city of Shenzhen.  Heritage has become a powerful line of defense for the preservation of urban villages and their until-recently unheralded contributions to the development of a sustainable urban fabric within China's rapidly expanding cities.  While we might therefore view these newly-built heritage landscapes as strategic spaces of place branding, they are also important ritual spaces of lineage-based territorial identity. Rather than viewing such spaces as holdouts left over from the rural ways of life that preceded urbanization, I propose we understand them as integral to urbanization itself. Instead of looking for traditional ritual spaces resisting the inevitable onslaught of the city, where the vestiges of a seemingly more authentic and rural landscape persists, we might instead consider these new heritage landscapes of reconstructed urban villages as a new kind of ritual space. This approach then leads us to consider how Shenzhen remains a city of villages and how an increasingly visible landscape of heritage in these villages reinforces their ongoing presence as ritual spaces. 
Shaping the Post-industrial City: Lessons from China
Vinayak Bharne, University of Southern California
Vinayak Bharne teaches in the architecture, urban design and heritage conservation programs. He also director of design at Moule & Polyzoides. Prof. Bharne's projects have won a variety of awards, including from the U.S. Environmental Protection Agency and the American Planning Association. He is the author of Zen Spaces & Neon Places (2014) and editor of many volumes, including The Routledge Companion to Global Heritage Conservation (2019) and The Emerging Asian City (2013).
Sponsored by USC's U.S.-China Institute and East Asian Studies Center in partnership with the National Consortium for Teaching about Asia. Financial support provided by the Freeman Foundation.
Featured Articles
A number of states have enacted laws prohibiting Chinese and others from "countries of concern" from purchasing homes or land.
Genshin Impact: Charting a Global Gaming Phenomenon and Chinese Dominance
Events
Tuesday, October 3, 2023 - 4:00pm
PT
Chinese companies are among the world's largest video game firms. They are on the move in some of the fastest growing markets.
Wednesday, October 18, 2023 - 4:00pm
PT
Throughout its history, the Chinese Communist Party has sought to dictate what is written and taught about its past. And some have always found ways to offer a fuller picture of what they and others have experienced.